Some simple ways to give to back through GOONJ.. !!
It's often said that we have just one life. You can live your dreams or be a part of someone else's dream to serve people. If one is free from the many latest trends, one can enjoy true happiness in giving back.. All we need is to be humane and sensitive and to pay attention to the Dignity of the People we want to work for.. The work and the satisfaction from it then becomes its own reward..
Knowing Goonj:
Goonj works with the core philosophy that the excessive material lying unused in urban households could be channelized to rural needy areas and could be used as a tool to carry out developmental activities. Materials that have been sitting in a corner of the cupboard could be shared with someone who needs it. Goonj, a 17 year old organization, thus channelizes vast variety of usable material like clothes, school material, sanitary pads, utensils etc. as a critical development resource in remote parts of 22 states of India. Material is not given free of cost rather people get it with lot of dignity and self- respect in lieu of practical development works that they choose to work on like road cleaning/ repair, making a bamboo school, cleaning water bodies, drainage system etc.
GOONJ is a tool to experiment, to innovate some unconventional ideas that gets space in the development process and get each one to think out of the box.. and take some action!!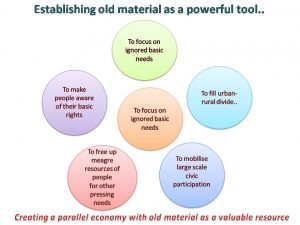 Our Ethos, Beliefs, Values:
;
To grow as an idea, not just as an organization across different regions, economies and countries.

;

To use material as a tool to bring ignored issues to light, to talk about basic needs.

;

To bring communities together, to make them aware of their own power, to increase people's participation, to change mindsets.

;

To improve upon the present rural infrastructure.

;

To value potential instead of fixing targets.

;

To turn the age old charitable act of giving old material into a development resource. We don't promote charity.

;

To focus on the receiver's dignity instead of the donor's pride.

;

We strongly believe that when people say we want to donate our used clothes- that it's actually discarding of something that has been used to the maximum.

;

A strong belief in the wisdom of people we are working for, to find solutions to their own problems.

;

As far as possible not to spend money on our own infrastructure, furniture etc. instead use old material- right from table, chairs and computers to office stationary.

;

To make positive word of mouth spread as our biggest strength.

;

Instead of trying to do everything on our own we use the strength of collaboration with various stake holders.
Founder of Goonj: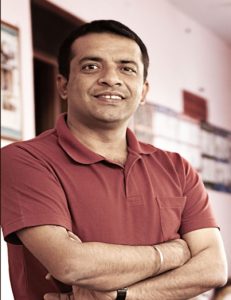 Anshu Gupta, popularly known as the Clothing Man is the Founder of an Indian based nonprofit – Goonj. One of India's leading social entrepreneurs, Anshu brings to the table an instinctive empathy and connect with people, moving the focus from the conventional – giver's pride to the unconventional – receiver's dignity. Asia's Noble, the prestigious Ramon Magsaysay award 2015, conferred to him credited him for 'his creative vision in transforming the culture of giving in India, his enterprising leadership in treating cloth as a sustainable development resource for the poor, and in reminding the world that true giving always respects and preserves human dignity'.
Our reach..
GOONJ has built up a network in remote parts of 21 states of India. The network has grown to over 250 partner groups like grassroots organizations, Ashoka Fellows, Indian Army, CBOS, Social Activists, Panchayat etc.
Recognitions:
;
July'15: Ramon Magsaysay Award to Mr. Anshu Gupta, Founder Goonj for Transforming giving as a developmental approach.

;

Nov'14: Goonj wins 'Deutsche Bank Urban Age Award'.

;

August' 14: Asia's leading English magazine 'The Top 10 of Asia' featured Mr.  Anshu Gupta, Founder Goonj among Asia's top 10 social entrepreneurs. 

;

July' 14:  Goonj is one amongst 'The Purpose Economy 100 Asia' list.

;

July' 14:  Goonj chosen among 100 leading Global Green Innovations of The prestigious think tank SUSTAINIA

;

February'14: Goonj gets a place among "The World's Top 10 Most Innovative Companies in India", in a listing by Fast Company

;

November'12:'Social Entrepreneur of the Year Award' to Anshu Gupta, Founder Goonj, by Schwab Foundation

;

July'12: GOONJ chosen as 'Game Changing Innovation' by NASA and US State Dept.

;

June'12:GDN Japanese Award for 'Most Innovative Development Project'

;

Feb'12: GOONJ won 'Edelgive' award in health &amp, well- being category.

;

Nov'10: Anshu Gupta listed in  international 'Forbes' magazine as one of India's most powerful rural entrepreneurs.

;

May'10: 'Innovation for India' award by Marico for developing innovative solution by using old cloth and other material.

;

March'10:Goonj won Jamnalal Bajaj CFBP Award for 'Fair Practices'

;

Nov'09: 'Cloth for Work' wins international Lien i3 Challenge Award

;

June'09: Not just a piece of cloth wins GOONJ's third Changemaker's Innovation Award

;

March 2009: CNN IBN's 'Real Heros' award to Anshu Gupta in women welfare segment.

;

March 2008: GOONJ won India NGO of the year award in a nationwide search &amp, selection by Resource Alliance.

;

May 2007: GOONJ's sanitary napkin project 'Not just a piece of cloth' wins World Bank's Global Development Market Place Award.

;

July 2007: Vastra Samman recognized as one of 'The Good Practices' by Dubai International Awards.

;

2006: Won the prestigious Changemakers Innovation Award, the second time, for Rahat, our disaster relief initiative

;

2004: Prestigious Ashoka Fellowship to Anshu Gupta, for his innovative idea &amp, its mass social impact.

;

2004: GOONJ won Changemakers Innovation Award for its School to School initiative.
&nbsp,